When we lived in Frederick County, hubby and I loved going to auctions. Our favorites were the ones held in the yard of the homeowners. There was always a church with a trailer set up to sell food.
The menu always included country ham biscuits, hot dogs, and homemade desserts.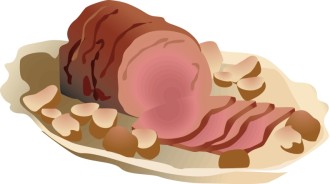 (I know that's not a picture of ham
biscuits,
but when I searched for a picture I found this one of a
country ham
. What makes it funny was I found it on a Christian website. I
told
you these were sold on church food trailers, right?)
There were old timers who could tell me what the truly vintage items were and how they had some just like them at home. (I love talking to people.) There were young people, just starting out, looking for bargains. Then there were people like us, just out to have a good time - and eat a country ham biscuit!
Since we've moved to Roanoke, we haven't found any auctions like that. Imagine our excitement when we saw a sign for an auction as we were out yard saling a few months ago. We eagerly parked the car and walked several blocks to the house where the auction was being held.
Yes, I read the sign, but only the
large bold print
.
Then we walked all around the house, looking for items of interest. The old timers were definitely there. But, where were the boxes of dishes and linens to pay through look through? Where was the furniture? Most important of all, where was the food trailer?
Here are pictures of what we did see.
We sadly walked back to our car and continued on our yard sale search